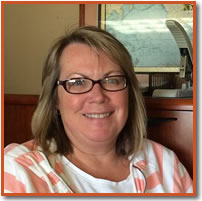 Melissa Gerber
Member
Melissa is a lifelong resident of Kosciusko County; she grew up and raised her children on the same farm her parents Everett and Marie Tom established in 1953. Melissa leads the Tom Farms' accounting operations for all entities as well as compiling and processing transactions for CereServ, Inc., a sister company to Tom Farms.
Since graduating from Wawasee High School, Melissa has worked on International Documentation at Chore-Time Brock, located in Milford, Indiana. She is a graduate of The Executive Program for Agriculture Producers (TEPAP). Subsequent to her upbringing and positive life choices, she has completed many courses of study at Grace College, Winona Lake, Indiana as well as Word of Life Bible Institute in Schroon Lake, New York. Melissa is also a Board Member at Living Gospel Church in Nappanee Indiana for the Youth & Missions.
Melissa and her husband Ray live in Milford, Indiana. She enjoys spending time with her children, five grandchildren and gardening.