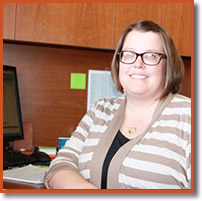 Kassandra Rowland
Member
Kassi is currently leading our fleet services, including Over the Road (OTR) logistics and brokerage. Kassi has facilitated the growth of our logistics services throughout the years all while being the executer and facilitator for all Tom Farms events and landlord relations. Recently Kassi has been implementing human resource operations for our team.
She attended IPFW in Fort Wayne Indiana as well as Davenport Business College in South Bend Indiana after graduating from Warsaw Community High School. Kassi is a graduate of The Executive Program for Agriculture Producers (TEPAP) in Austin Texas and was part of Annie's Group – Purdue Extension.
Not only is Kassi a board member at Tom Farms, she is the President of Purdue Extension of Kosciusko County and a member of Tri-Kappa, a philanthropic organization. Kassi and her husband Greg, who is also actively engaged at Tom Farms, have two girls who attend Madison Elementary where Kassi is involved with the Reading Leadership Committee.
Kassi and Greg reside in the outskirts of Warsaw Indiana where she enjoys spending time with her adorable girls and friends. The Rowland family attends Walnut Creek United Methodist Church were Kassi is actively involved with the Outreach Committee.